Casey Stoner is the second youngest Aprilia rider to win consecutive races, after Spain's reigning 250cc world champion Dani Pedrosa.
The 19-year-old Aprilia rider is only the second Australian to win two GPs in succession, following the late Gregg Hansford, who won the Spanish and French 250cc GPs in 1978.
Back to 250cc
In 2005, Stoner returned to the 250cc class with Team LCR Aprilia Racing and the manufacturer.
Stoner thought he could get more out of his bike despite his impressive form.
"We couldn't have a better preparation for this next race, coming off two wins," Stoner said.
"We're slowly getting there with the bike and the team, and we're all starting to work together better."
Stoner debuted as the main challenger to Daniel Pedrosa and Honda, riding a motorcycle built to the manufacturer's specifications, and Stoner had multiple opportunities to become the leader. Stoner took first place in Portugal, China, Malaysia, and Qatar.
In the last couple of races, we haven't had a dry race.
"I won both of them in strange conditions, so we'll have to wait and see how we go in the dry now.
"There's a lot of improvement left in the bike – we haven't got it anywhere near perfect."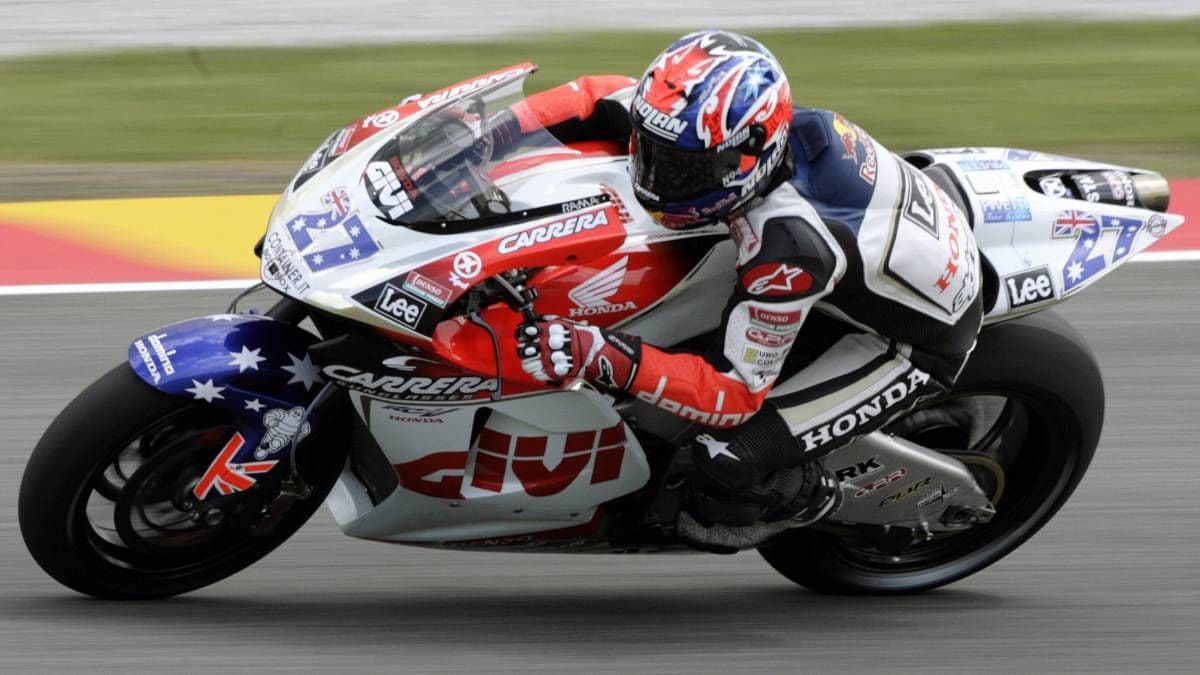 The famous 4.18km Bugatti circuit at Le Mans, located southwest of Paris, is recognized as a stop-go course focusing on abrupt braking and quick acceleration.
"I've always liked Le Mans, but unfortunately, it suits the Hondas a little bit better," Stoner said.
"We'll go to tracks where it suits the Aprilias a little bit more as well, but I think this weekend is going to be quite difficult to get the bike set up to be able to match the Hondas and give them a challenge."
Stoner was joined by Anthony West, a countryman who was given a one-off ride by the Aprilia Germany team while his KTM factory 250cc bike was built. Casey Stoner, together with KTM, appears to be committed to a competitive bike to compete in the 250cc Road Racing World Championship.
"I've never raced a four-stroke bike before, and I don't think it will be too difficult to get used to it; it's only a bike. I don't mind how long I stay in the 250cc, as long as it's not too long. I want to make sure that I'm ready to go up to the MotoGP and make sure that I'm going to be fast enough. I'm going to be lucky enough to even get an offer to ride one so I've just to keep up the results from the 250 and concentrate on that first."
Stoner wrecked in front of his home crowd at the Australian Grand Prix and was compelled to leave his aim of becoming world champion in the 250cc class in 2005, even though he was able to win the race in Turkey. Stoner became runner-up in the 2005 250cc championship with 254 points.
The first Australian to win a hat-trick of 250cc
West won the Dutch 250cc GP in 2003 on an Aprilia, signed with Austrian manufacturer KTM at the end of the year, but has yet to race in the first three rounds due to a lack of a finished bike.
"I haven't been on a Grand Prix bike, either racing or testing, for seven months, so the ride at Le Mans will give me the chance to get back into it after such a long time away," West said.
"Right now, I need race miles more than anything, and KTM can see this will help me get myself ready for when my new bike is ready to go."
Troy Bayliss, who competes in the elite MotoGP class, needs a solid finish at Le Mans to please his Honda employers.
After a disappointing season with Ducati, Bayliss started the season positively on his new machine, placing sixth in the first round in Spain.
Despite being quickest in the damp morning warm-up, he finished 11th in Portugal and crashed out in China due to excessive rain.
"I can't wait to get to France because Le Mans is a track I love," Bayliss said.
"Last year, the race went quite well for me, but better still was the test day following it."
Stoner debuted in the 250cc category as a 16-year-old and went on to win three of the five last races of the season, while Pedrosa grabbed the valuable #1 plate with eight victories throughout the 16-round season. Stoner finished 65 points ahead of Dovizioso in third place (Honda). Honda's Hiroshi Aoyama finished fourth, ahead of Jorge Lorenzo and Sebastian Porto (Aprilia).
250cc World Championship
Casey Stoner finished second behind Dani Pedrosa in the 2005 250cc World Championship and won five races. Stoner finished fourth in France and Italy after his victory in rounds two and three before returning to the podium in Catalunya with a second-place result.
Stoner was believed to have signed an official contract with Yamaha in 2005 for a 2006 season with Valentino Rossi. Then Yamaha decides to end their partnership, potentially disappointing Casey Stoner.
Checchinello Stoner continued in the MotoGP class for the 2006 season when Honda agreed and cooperated. Stoner tried to re-invite Lucio Checchinello to become supporters in January 2006, but Checchinello declined. Checchinello eventually decided, and he immediately contacted HRC to request permission to lease one Honda RC211V unit for the 2006 season.
Read about Casey Stoner's 125cc Career