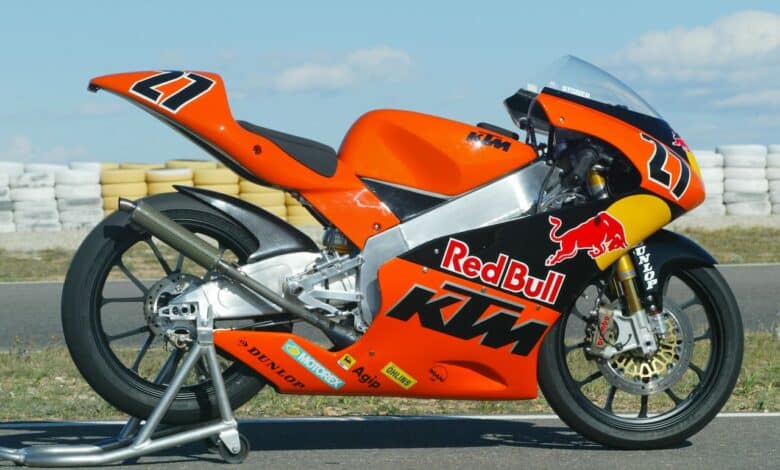 Casey Stoner was born into a family of motorcycle enthusiasts in Queensland, and his first race was at the age of four on a Gold Coast dirt track. He had won 41 national titles and 70 state trophies by the age of fourteen.
Stoner's family moved to Europe in 2000 since he could not pursue a career in road racing in Australia due to age limitations. Over the next four years, the gifted rider gained sponsorship and raced 125cc and 250cc bikes.
The minimum age in Australia for a driver is 16 years old; that's why Stoner relocated to England, where the minimum age to obtain a driver's licence is 14 years old. On July 7, 2001, Casey Stoner rode his 125cc motorcycle in the second qualifying practice for the British Grand Prix at Donington Park. Stoner competed in the national 125cc racing motorcycle championships in the United Kingdom and Spain from 2000 to 2002.
In the year 2000, Stoner was able to win the Championship Auto Racing Aprilia England. His striking appearance drew the attention of the drivers and team manager Lucio Cecchinello and offered an opportunity. Stoner raced as a wild card in the 2001 British Grand Prix before joining LCR Racing as a MotoGP 250cc rider in 2002.
Stoner then dropped to the 125cc class in 2003 while still with LCR Racing. Aprilia sponsored Stoner has four podium finishes, including three second-place finishes in Germany, Brazil, and the Pacific and a victory in Valencia at the end of the season. Stoner climbed to P8 in the standings with 125 points as a reward for this effort.
Stoner left LCR Racing and joined the Red Bull KTM squad for the 2004 season. He only managed to win one race this season in Malaysia. However, he could still enjoy himself by finishing second twice and third three times. Stoner finished fifth in the 2004 season standings with 145 points.
MotoGP World Championship
Casey Stoner entered the premier class in 2006 with the satellite Honda LCR team after working his way up through the 125cc and 250cc rankings following his GP debut as a 125cc wildcard at Donington Park in 2001. His switch to Ducati in 2007 proved to be the trigger for his full potential, with his maiden MotoGP victory in round one in Qatar, followed by nine more to win the championship. Stoner attempted to defend his championship in 2008, but he finished second due to a series of errors and pressure from Valentino Rossi. Stoner switched to factory Honda for the 2011 season, and it was a huge success. Stoner had already won nine races by the time he won the 2011 championship at Phillip Island. Stoner won his tenth race in the 800cc era at Valencia.
Stoner claims Malaysian 125cc
Casey Stoner confessed he dropped 2kg due to sickness before winning the Malaysian 125cc Motorcycle Grand Prix in Sepang, despite a scorching track and a strong pursuit from Honda opponent Andrea Dovizioso.
Despite battling sickness and stomach problems for the past ten days, the Australian 18-year-old won a race-long fight with Italian Dovizioso to win his second 125cc GP and first for manufacturer KTM.
"I've been ill and haven't had much energy," Stoner remarked after winning on Sunday night, just six days before his 19th birthday.
"I had lost 2kg in body weight, so I was conserving something for the final lap because I knew Dovizioso would do everything."
Stoner was feeling the heat from Dovizioso, who duelled with the Australian from lap two before finishing second and clinching the world title.
It was the first motorcycle GP triumph for an Australian this year and the first Grand Prix victory for Austrian manufacturer KTM.
It also took a significant burden off Stoner's back, who had only previously won on an Aprilia bike at last season's final race in Valencia, Spain.
He'll now go to Melbourne for the Australian leg of the championship this weekend at Phillip Island before returning to Valencia for the final race at the end of the month.
This year, Stoner was a championship candidate until he injured his collarbone in mid-season and missed two races.
Due to a mixture of injuries, collisions, and technical issues, he had not collected a championship point since the Brazilian race in Rio de Janeiro in early July.
Read more about Casey Stoner's 250cc Career.