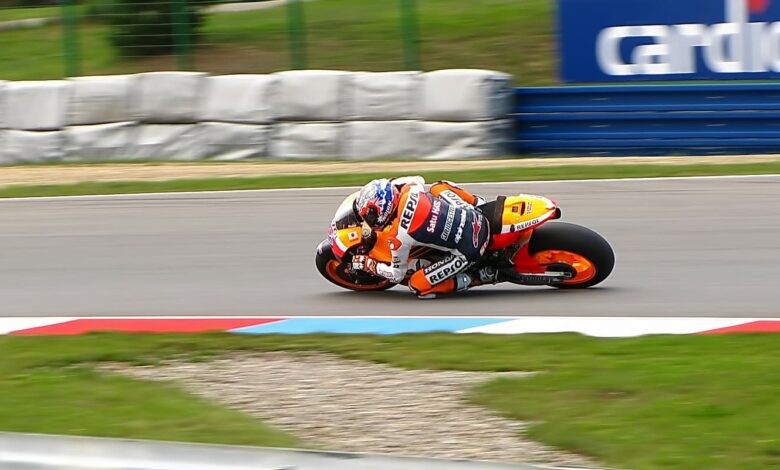 Casey had tremendous self-confidence, and it's probably because he constantly succeeded and accomplished so much in racing. Stoner surprisingly retired from MotoGP in 2012, at the age of 27, following 14 years of racing motorcycles in Europe, where he won the 2007 and 2011 titles. Stoner talent and skills will remain engraved in the books of history.
Casey wants MotoGP to be harder to ride.
Casey Stoner, a two-time MotoGP World Champion, retired in 2012 and returned to the paddock as a guest during the last races of the 2021 season. Casey suggested that aerodynamics in MotoGP had turned it into Formula, contributing to a rise in costs.
"We are trying to make things more cost-effective, yet one of the elements we have got now is basically turned into Formula 1, and the costs have just gone through the roof, " said Casey.
He suggested that some changes to technical regulations would make for incredible racing in the premier class of bike racing.
Casey also believes that the existing model electronics utilised by the entire grid should be changed to make the bikes more challenging to ride. Stoner said he would love to have a say in the technical regulations.
He would start by removing some of the electrical attributes of the current bikes. He would like to see riders struggle for grip out of the corners and more opportunities for overtaking; that didn't just rely on breaking. Stoner believes there is no safety problem. There are things in it that aren't necessary, and they are just trying to drive up the price.
Casey said, "I would like certain parts to be removed electronically as well. I think there needs to be a considerable reduction.
Casey believed it was back in 2016 that they introduced the equal ECU; it was already better than the year before. According to him, it wasn't the step back that everyone anticipated.
"I think we need a step backward. I want to see them sliding. I want people struggling for grip out of corners; people may be starting the race well, but with their tyre selection, maybe dropping back.
According to Stoner, all of this can be accomplished with a few different regulations; it won't take much. He believes that overtaking would be better than currently since it would not be restricted to the brakes only.
"Bike set-up would become a lot more critical as well. I think a few things to change; the racing would be incredible."
Technical regulations made MotoGP Incredible.
Back in 2012, Stoner publicly criticised the direction MotoGP was heading with the CRT rules, which prepared the way for the spec electronics that have helped make MotoGP so competitive today.
Since the transition in 2016, nine riders have won races: nine in 2016, nine in 2020, and eight in 2021, with a mix of factory and satellite riders, as well as five of the six manufacturers contributing to those totals.
Aussie Legend's Health
Stoner retired from MotoGP in 2012 due to sickness. After a rare sighting, world champion Casey Stoner addressed his three-year absence from MotoGP and spoke up about his terrible health fight as he returned for the first race in three years.
The two-time world champion claims he's still coping with his debilitating chronic fatigue syndrome, which has rendered him utterly disabled in recent years.
Casey said: "I'm never more than 60 percent of my usual self. I had to learn to walk everywhere, which I hate. I always used to jog around, but now I have to walk.
The 36-year-old has already spoken about his continuing health fight, which was successfully identified in 2018. He still has sore throats, headaches, extreme exhaustion, and trouble thinking.
Casey finished his testing role with Ducati and got his shoulder reconstruction. He has struggled massively with his health. He couldn't get off the couch for five months. From bed to the couch was his exercise for the day.
Casey said, "I was struggling mentally. Physically, massively. I have just been trying to manage the situation for the last three or four years now.
"I'm a little less optimistic with things at the moment. I just go day by day how I feel. Sometimes I'm extremely exhausted and cannot explain it, and then other days, I'm a little better.
Stoner feels his chronic fatigue syndrome was caused by a previous misdiagnosis, which left him depleted of vitality at the end of his career. Doctors have told him that his fatigue at the end of his racing career created the disease he now has to deal with daily.
2021 compromised of Casey appearing in the Ducati garage at Portimao for the Algarve Grand Prix, offering advice and tips to fellow Aussie Jack Miller. Casey was very much welcomed and loved back in the paddock with several interviews and chats with old friends. Let's hope we see more of this in 2022.