Casey Stoner – A racing legend
From dirt-track racing in the Australian outback to honing short circuit skills in the junior ranks of BSB and then through the 125cc and 250cc Grand Prix class, Casey Joel Stoner is an unremarkable retired Australian professional motorcycle racer.
Stoner was born in Southport, Queensland, and began racing at an early age before moving to the United Kingdom to follow his dream. Stoner's greatest skill was his natural speed, and his ability to ride any motorbike past its apparent limitations was undeniable.
Early Years
Casey Stoner has always had a fascination for motorcycles and a natural ability to ride motorbikes. By the age of three, he had graduated from pushing his elder sister's 50cc Peewee around the yard to taking his first solo ride.
By the age of four, Casey competed in his first race in the under nine years old race category at the Hatchers dirt racing track on the Gold Coast. Gold Coast Travel became a regular thing at six years of age, he had won his first Australia title. Casey raced all around Australia from the age of six to fourteen, winning 41 dirt and long track titles as well as 70 state titles.
Stoner began racing at the age of 12 and competed in the Australian Long Track Titles on the NSW Central Coast in five different categories, each having seven rounds, for a total of 35 races throughout the weekend. Not only did he compete in all these categories and different engine capacities, but Stoner also won 32 out of those 35 races and took five out of five Australian titles in the one meet.
Casey couldn't legally race until he was sixteen in Australia, but he was up for the challenge. Stoner and his parents decided to move up to road racing shortly after his 14th birthday, so they travelled to England, where the legal age for road racing is 14. A big risk to take, but he was paid off.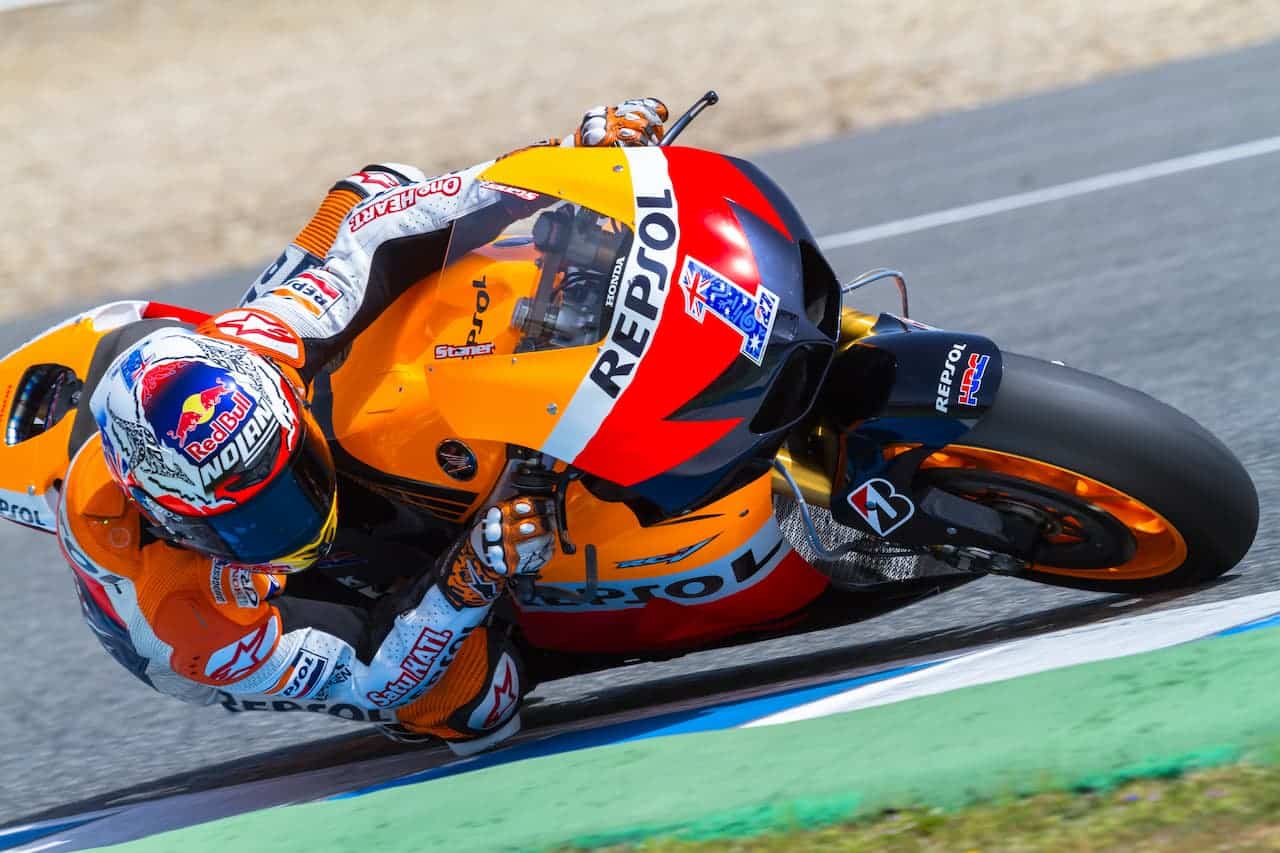 Casey was talented enough to attract immediate sponsorship after just one race in England. In 2000 Stoner moved to the 125cc GP category and raced two rounds of the Spanish 125cc Championship. Alberto Puig noticed Casey's performance and was impressed by his determination and skill. He also invited him to compete in the 125cc Spanish Championships with the Telefonica Movistar Team. In 2001 he contested the national 125cc GP championships in Britain and Spain. Stoner managed to come second in both championships. He was also given wildcard entries, in both England and Australia into the MotoGP 125cc World Series.
In 2003 he went on to ride for Lucio and Safilo Oxydo LCR in the 125cc GP series and finished with his first race win, in Valencia. It was a huge turning point for Casey's career.
In 2004, Stoner joined the Red Bull KTM factory team in the 125cc class, winning another race, finishing second twice, third three times, and finishing fifth overall in the championship.
At 16 years old, Casey demonstrated his aptitude and speed by jumping right aboard a 250cc.In 2005 Casey rejoined the 250cc world championship class, under the welcoming umbrella of Lucio Cecchinello's team, this time riding an official 250cc Aprilia.
Stoner emerged toward the season's end as a serious threat to championship leader Dani Pedrosa, visiting the podium ten times and taking wins in Portugal, Shanghai, Qatar, Sepang, and Istanbul.
Casey Stoner was very ambitious about racing in MotoGP, the fastest, popular, and most prestigious of the classes. Finally in 2006, at twenty years of age, he accomplished his long-held dream and set pole position in his second MotoGP race in Qatar. Casey also battled for the Turkey GP, finishing runner-up just a fraction behind winner Melandri. The youngest rider – Casey, finished eighth overall in his rookie MotoGP season.
Ducati's Golden Year
In 2007 Casey Stoner joined the Ducati Marlboro Team and he remains the Ducati's only MotoGP world champion to this day. He has quickly adapted to the Desmosedici GP7 and Bridgestone tyres after a successful winter training.
Stoner became MotoGP World Champion in 2007 for Ducati at the Losail International Circuit in Qatar. Stoner won the MotoGP World Championship and the first-ever 800cc Grand Prix of the season. In September, 2007, Casey clinched his first MotoGP world title during the third practice session at the Japanese Grand Prix in Japan.
Stoner continued to work tirelessly with his team and identified a method to maximise the potential of the GP8. Three consecutive victories followed by the hard-fought podium at Laguna Seca, two falls at Brno and Misano, and a physical problem caused by the reopening of an old fracture to his left wrist.
Improvement is observed towards the end of the season with two podiums and another two convincing wins, in Australia and at the final round in Valencia. Stoner closed the season as the 2008 vice-champion with the highest ever points score.
The day after the Valencia GP, and immediately before undergoing surgery for his fractured scaphoid, Casey Stoner participated in the first winter tests and 2009 World Championship on board.
Casey Stoner also won a second world championship title in 2011 for Repsol Honda.
Battle with Chronic Fatigue
After numerous tests and consultations, Stoner was eventually diagnosed with Chronic Fatigue – a condition he is still managing to this day. Some of the symptoms include lack of energy, total exhaustion with an acute state of depression, and quite often acute muscle and joint pains. Heavy or over-exercising may increase the symptoms.
Stoner was physically and mentally unstable and couldn't race. He missed the Brno, Indianapolis, and Misano GP rounds. He needed to recuperate away from the inferno that is Grand Prix racing.
Stoner Was Back
Due to chronic fatigue and anaemia, Casey missed a few races in mid-season 2009.
In 2010, Ducati failed to cope with Yamaha and Honda, when Stoner went out on a winning note winning three races.
Retirement
At the age of 27, Stoner announced that he would retire from Grand Prix racing at the conclusion of the 2012 season. Stoner was also the youngest Australian champion of his home Grand Prix of Australia on six consecutive occasions between 2007 and 2012. A crash during practice at Indianapolis, left him disappointed with a leg injury.
Stoner missed several races including the Brno, Indianapolis and Misano GP rounds due to injury, curtailing his championship challenge for his last season. He finished his MotoGP career on a high note, winning his home Grand Prix at Phillip Island for the sixth time in a row and finishing third in his final race.